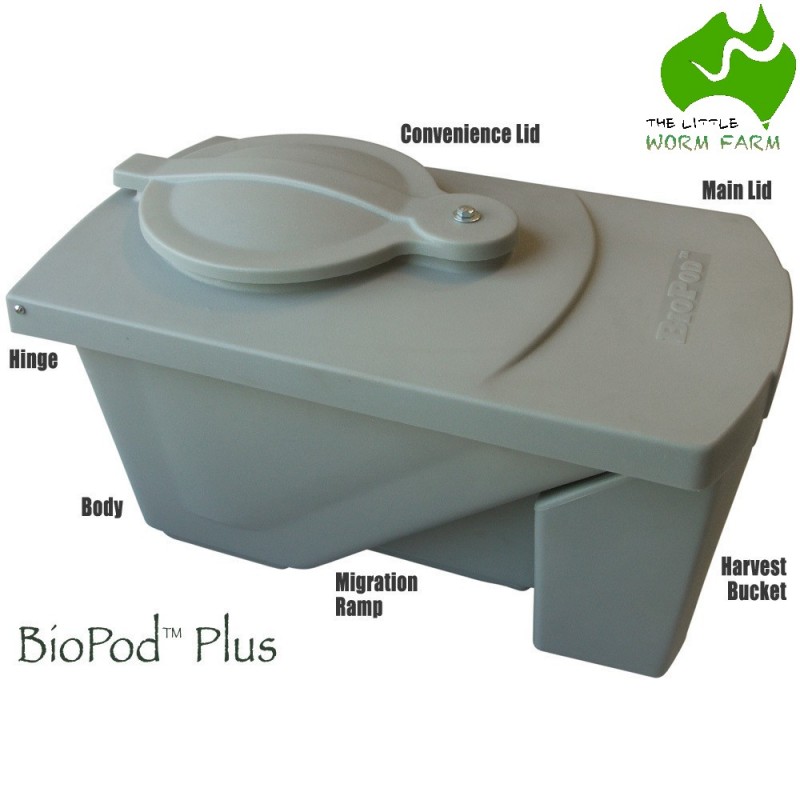  
Biopod Plus - BSF Grub Composter
Tax included
Delivery: 3 to 6 weeks
Important note: there are currently a lot of delays and it might take 1 to 2 months for orders to be shipped
The Biopod Plus is the ideal Black Soldier Fly Larvae food waste composter for home scale operations. It has a solid build with all the built-in critical features. Great for domestic composting of food waste and feeding chicken.
Shipping fees:
Shipping from USA to AU/NZ: add A$155 shipping fee
Express shipping from USA to AU/NZ: add A$200 shipping fee
Shipping to Continental USA: add US$30 shipping fee
DESCRIPTION



The BioPod Plus is a convenient way to recycle your 
kitchen scraps
 and restaurant leftovers into valuable feed - an excellent choice for your 
fish
, 
chickens
, bullfrogs and backyard songbird feeders. Utilizing the larvae stage of the native Black Soldier Fly, these devices are an efficient way of bio-converting your food scraps into living biomass, without the time consuming task of separating the grubs from the active pile. Mature grubs auto-separate from the active pile via crawl off ramps and collect in the handled harvest bucket. Advanced drainage system helps maintain aerobic conditions by separating liquid effluent from pod contents. Liquids are easily dispensed from external fittings.



FEATURES & BENEFITS
Pair of angled, 40˚ migration ramps allow for natural migration of grubs. Inner edge of almost 2" wide ramps possess a raised lip to guide grubs and optimize auto crawl off. Dual ramps lead to harvest slit at top which overhangs the entry chute of the harvest bucket. 
Covered harvest bucket auto-collects grubs for simple, no-hassle separation, while fitting snuggly into pod body. Bucket features: a drip channel that diverts condensation and precipatation away from the contents, a carrying handle to remove unit from body while providing a means of gripping, an air port slot to keep grubs from suffocating, and a top entry chute where the grubs fall through via gravity.
Hinged main lid lid is easy to open using front handle
Inner convenience lid easily pivots, allowing for quick one handed dumping of food scraps, while shielding top ventilation gap created by built-in bump - critical for aeration, female access and egg laying 
Heavy duty, weather-resistant, rotomolded construction insures long life span and protection of colony from the elements 
Improved ventilation: Fresh air enters through bucket slit, passively flowing through entry chute in bucket, which leads to the harvest slot in body and exits at convenience lid gap - continually maintaining aerobic conditions 
Compact design is ideal for shade gardens and patios - compatible with rural, suburban and urban settings 
Advanced drainage of liquids effluent occurs through perforated drainage plate and flexible mesh drainage pad, allowing liquids to flow passively into collection area. Multi-layer drainage system phyically separates active colony from liquid catchment area, allowing liquid to pass through mesh, 0.5 cm holes and exit the rear drainage port.
Faux stone appearance blends in naturally with garden landscaping
---
Data sheet
Compositions

Roto-molded, UV-stabilized, medium density polyethylene resin

Dimensions

26 1/2" long x 15 1/2" wide x 16" tall

Availability (country)

Continental USA, Australia, New Zealand

Avg. composting capacity

Maximum of 5 lbs (2.2 kg) per day
We will not share your personal information with any third party. Your privacy is important to us.

Unless stated otherwise, your physical products will be processed in 3 business days. Worms, Black Soldier Fly Larvae and plants cannot be shipped to WA, TAS & NT due to quarantine restrictions.

If you are unhappy with your products, you have 14 days to return any live items or 30 days for other items.
Reviews
No customer reviews for the moment.