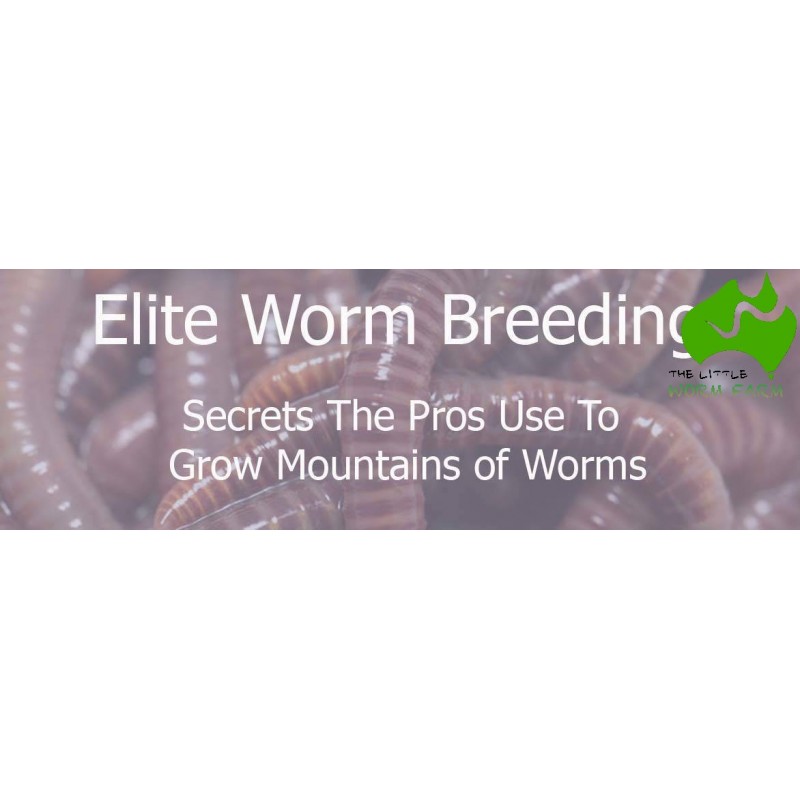  
"Elite Worm Breeding" Online Course
Tax included
Delivery: 1 to 3 weeks
In this course you'll learn the secrets of how commercial worm farmers supply HUGE quantities of worms to the marketplace. This course has been written by Larry J. Shier, author of several eBooks including "The Rogue Wiggler" and "Black Soldier Fly - Ecotechnology for a sustainable future".
Larry J. Shier is a well known admin of major Worm Farming / Vermicomposting related groups on Facebook and has been helping a lot of worm farmers around the world for many years now. In this online course, Larry is sharing with us the technique that will allow you to breed a lot of worms to kick start your business.
Table of Content
Introduction
A brief introduction to Elite Worm Breeding - The concept of what we will be doing
Items You'll Need To Start
A list of items you should gather up before beginning
Selecting Bins
Using the right bins for your situation is important, we will look at solutions that can work best for you. 
Preparing Bedding For Breeder Worms
Preparing bedding  and placing it in bins
Proper Worm Densities
Learn about the importance of ideal worm densities for breeding.
Identifying and selecting mature adult breeders.
Selecting adult worms
Adding worms to the breeding bins
Feeding worms for breeding
Bedding covers
Selecting materials for covering bedding to prevent moisture loss.
Record keeping -Tracking your bins
Retrieval of adults and resetting breeder bins
Estimating cocoon counts
For cocoon sales or estimating productivity
Grow out trays
Prepping trays or bins to grow cocoons to adults
Hatching cocoons
Why selling cocoons might suit you better than selling worms.
Added notes on African nightcrawler breeding.
Due to high demand I'm adding some information about breeding Eudrilus Eugenae.
Conclusion
Final thoughts and well wishes.
We will not share your personal information with any third party. Your privacy is important to us.

Unless stated otherwise, your physical products will be processed in 3 business days. Worms, Black Soldier Fly Larvae and plants cannot be shipped to WA, TAS & NT due to quarantine restrictions.

If you are unhappy with your products, you have 14 days to return any live items or 30 days for other items.
Reviews
No customer reviews for the moment.