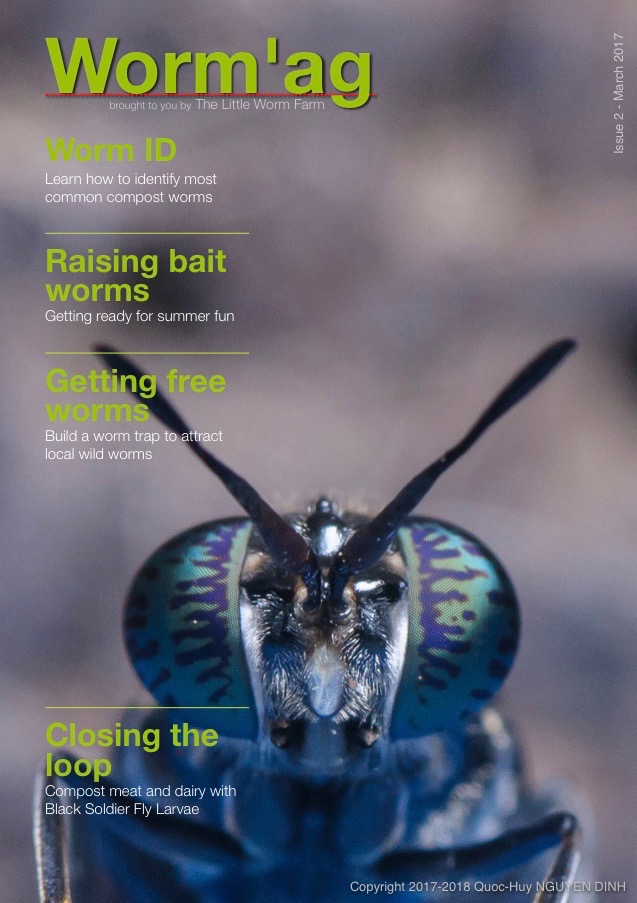 I launched Worm'ag in December 2016 as a quarterly online magazine. It is quite a challenging project but fun and enriching. I learned that you need to handle many more aspects than just writing the actual articles. A magazine is very visual, so I not only had to have the articles but I also had to deal with the photographs and the layout. Another challenge is when you start to get external people involved, there is a lot of back and forth to fine tune the content. I don't have a designer or a co-editor and I do my own photography so getting the magazine out on time is a lot of time management. What helps me is the fact that I have almost two hours commute (each way) on my way to work (day job) so I can write in the train, what's slowing me down is this old iPad that is slower than my writing and skips some letters and I have to come back often to make corrections. And regarding corrections, thanks heaps to Julie Pettitt from Julie's Compost Shop for helping with proof reading.
So here is Worm'ag Issue 2 - March 2017. For best experience you can download the Joomag app on a tablet and search for "worm" or just head to the link above on a tablet. On a desktop, go full screen and double click or use the mouse wheel to zoom in/out. Previously, some people have had issue with accessing the magazine from old computers, so this time I also made it available in PDF.
For those who wonder about the name, Worm'ag is the contraction of Worm and Magazine and the apostrophe is to play with words and tag the name with "AG" for agricultural as worm farming is also about the soil and agriculture.
For this new issue I have written some articles I hope you find useful and that give you some ideas of what to do in this period of the year.
I'm so thrilled to see the responses to my call for contributions to the magazine. I love all the photos people have sent me and looking forward to seeing more. Thanks to Rowin, Gavin, Ivan and Colin for your inspiring stories, it has been a a pleasure working with you and learning more about your backgrounds.
I have recently focused a lot of my time on learning the ins and outs of composting with Black Soldier Flies Larvae and it has been very exciting and the future for these critters is very promising I reckon. Unlike worm farming it is still a market that has a lot of empty stalls and I want to be one of the firsts to seat inside one. As I was trying to find more info about BSFL I realised there are not many publications about the subjects and the ones available are out of price to be honest. I'm sure they are worth it but if we want more people to join the BSF Farming Revolution, sorry Pauly ;-) then we need to provide more affordable content. So I decided to write a little eBook "A guide to composting with Black Soldier Fly Larvae" sharing what I learned along the way with link to designs of composting bins from other people but also some designs of mine too. I hope the eBook will help people get started with this other efficient way of composting food waste. I will improve and update the eBook along the journey so comments and critics are welcome.
For those who are not DIY persons, I managed to get on board the BioPods resellers family and for this Spring it is free shipping (save $25) anywhere in continental USA for the BioPod Plus (domestic size) if you use this promo code SPRING2017, be quick the code is only valid 10 times. On top of this you get a free copy of my BSF eBook.
Posted in A day in a worm farm on Mar 14, 2017
by Quoc-Huy Nguyen Dinh